The three LCAM labs are located in the Amsterdam region. The lectures will take place at LCAM-FNWI at Sciencepark while the practicals will be organized in all three LCAM labs.
LCAM-AMC

LCAM-FNWI

LCAM-NKI

Meibergdreef 9
1105 AZ Amsterdam
The Netherlands
Science Park 904
1098 XH Amsterdam
The Netherlands
Plesmanlaan 121
1066CX Amsterdam
the Netherlands
Dr. Eric Reits
Tel +31 –(0)20–XXX 66259
Prof. dr. Dorus Gadella
Tel +31 –(0)20–525 6225
Dr. Kees Jalink
Tel +31-(0)20-512 6242
3rd Floor-M3 & L3
2nd Floor-Rooms A2.34-A2.44
5th floor-B5
www.lcam-amc.nl
www.lcam-fnwi.nl
www.lcam-nki.nl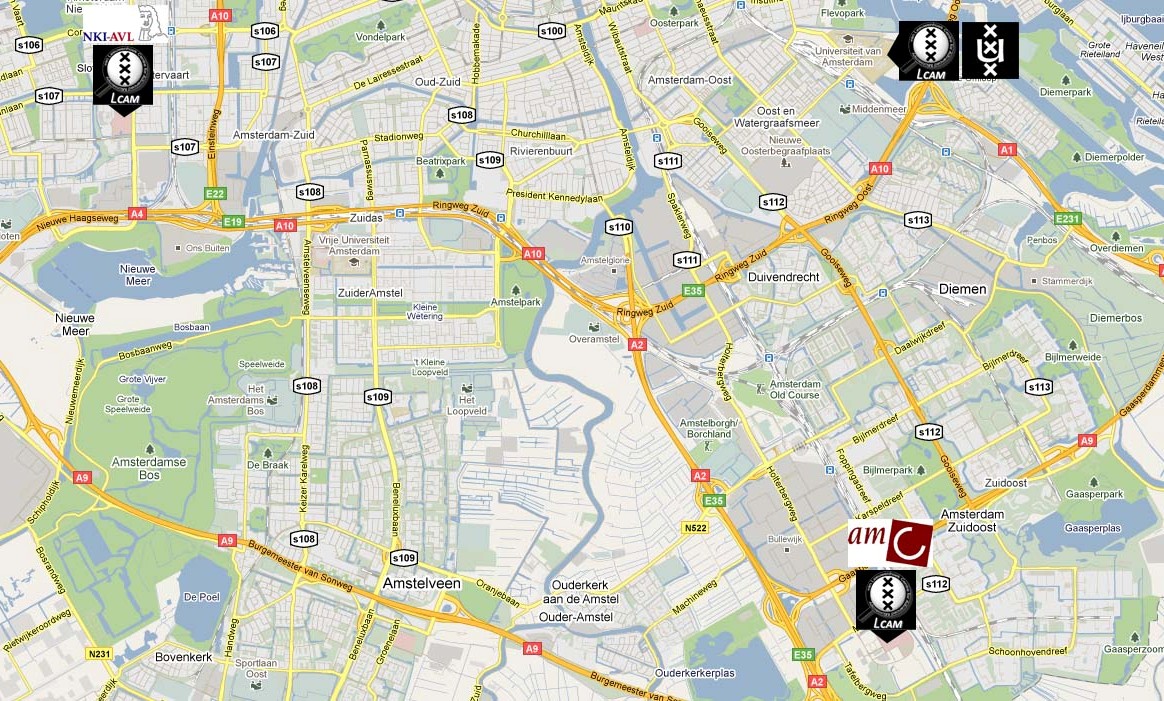 Amsterdam

Amsterdam, capital of the Netherlands, became a metropolis since the second half of the sixteenth century. Amsterdam now hosts more than 750,000 residents from 175 different countries. 37% of the population belong to an ethnic minority. There is an open and tolerant atmosphere in the city. Amsterdam has a temperate climate with mild winters, cool summers and precipitation throughout the year. A good climate for the city makes it easy to visit throughout the year.
In the city you can discover something new each time, did you know that aside from 6 windmills there are 600,000 bicycles? In one of the 51 museums is very much to see and enjoy.
For more info about Amsterdam click here